March 9, 2012 – 9:39 am
The house Bhupen called home
– Hazarika's Calcutta address wallows in neglect, associates rue apathy
DIPANJAN SINHA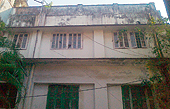 Bhupen Hazarika's house at 77B Golf Club Road in Calcutta. Telegraph picture
Calcutta, March 7: A three-storey house with shut windows, worn colour and a locked collapsible gate breaks the urgency of life brimming on Golf Club Road in Calcutta.
The trappings are usual, of nostalgia in a steadily reshaping city. The history, though, is of a remarkable lapse amid the rush of memorials for Bhupen Hazarika, who called this place home for decades.
The abandoned house, once a haunt of the luminaries of Indian culture like Lata Mangeshkar and Manna Dey, now symbolises the collective amnesia of a city from where the bard was first known to the world.
Cultural icons here lament the bard's demise and hope for measures to preserve his memory.
Singer Haimanti Shukla fondly remembers the time when she had performed with Hazarika to packed galleries and is disturbed by the apathy and ignorance of the people now.
"The present generation here is deprived of his wonderful work. I think it is unfair to them. Efforts have to be taken to revive his work, his memory and what he meant to Calcutta," she said.
Hazarika's relation with Bengal began in 1956, when a chord of sensitivities was split between the names in Assam and the US-returned artiste.
He moved into a flat in the house at 77B Golf Club Road in 1956, where he initially resided as a tenant and later bought the place in the Eighties.
His stay in Bengal witnessed his climb to fame. In the Sixties and Seventies, the area was identified as the bard's residence.
A witness to the music and glory at close quarters was singer Manisha Hazarika, wife of late Jayanta Hazarika, Bhupen's younger brother, who was born and raised here.
"The Sixties and Seventies were Bhupenda's period of success here. It is during his stay in this city that he got international recognition. His songs were translated into Bengali and Manush manusher jonye was hummed everywhere from rallies to the famed Calcutta Coffee House," she recalls.
"Manna Dey, Lata Mangeshkar, Hemanta Mukherjee and several other luminaries have visited this house. It was a centre of vigorous cultural activity. This was the time when he built a unique cultural bridge between Assam and Bengal," Manisha said.
Other than the luminaries, Hazarika is fondly remembered by those who gained by their time spent with the maestro in this city.
Ankur Deka, who in the Eighties was pursuing a Bachelor of Music degree at Rabindra Bharati University, recalls visiting Bhupenda after classes or on Sundays and being welcomed with warmth.
"I still remember his bed on the floor, scattered papers, pens, a harmonium and a mini-keyboard in the room. Calcutta deserves to be remembered in conjunction with Bhupen just as much or more than Guwahati. He inspired me and many others like me to pursue music," he said.
The relationship, though, ended abruptly. In the mid-Nineties, Hazarika left for Mumbai, never to return.
The pain of this detachment haunts many who were captivated by the enigma.
Shukla, too, has this one complaint against her Bhupenda. "It was a great time when we all performed together in front of packed crowds. The people of Calcutta loved his music. So many singers then sang to his tune. We had great respect for him and his unique sense of humour. But after he left for Mumbai he never came back. He almost abandoned Bengali music for some reason unknown to me," she said.
An officer in Assam House here rued that Calcutta seemed reluctant to pay homage to the Bard of the Brahmaputra.
"Calcutta deserves Bhupenda no less than Guwahati. It is sad but hardly anyone is willing to take any initiative. If the Assam government comes forward to talk to its counterpart here, a lot can be done," he said.
During Hazarika's prolonged illness in Mumbai, the house changed hands. Since then, neighbours say the house has remained locked.
However, Mintu Mukherjee who was associated with Hazarika ever since he came to the city, has launched a crusade to save the house.
"A few years ago when Bhupenda was ill in Mumbai, I heard that the house had been sold. Then Kalpana Lajmi told me there is some dispute in transaction and the house has not yet been legally handed over. I have asked so many people if something can be done about Bhupenda's flat here. Whenever I meet any minister from Assam I push for the cause," he said.
Sunil Nath, the chief executive officer of the Bhupen Hazarika cultural trust, agrees that there has been a slip.
He, however, added that the trust has limited means and an initiative like this would require government intervention.